India-The land of Forts and Palaces.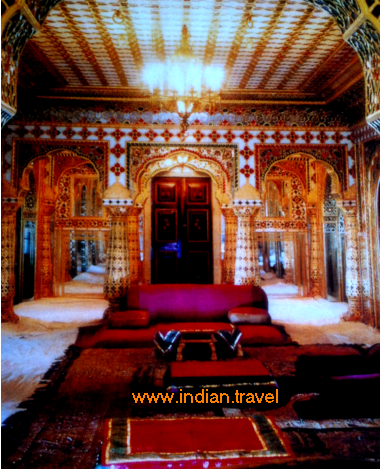 India has one of the oldest civilizations which can be traced back to at least 7000 years. India is a treasure trove of monuments of  historical significance. Indian Forts ,  Palaces and other monuments are living reminders of Indian breath taking rich civilization and culture.   The reference to Indian Forts and Palaces can be found in Vedas written 1100 BC. Most of the surviving Forts were built from 12th century AD.  Jaisalmer Fort in Rajasthan and Golconda Fort near Hyderabad dates back to the oldest.
Red Fort

Taj Mahal

Sanchi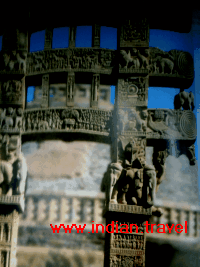 State wise list of Forts Palaces and important monuments of India
Click on corresponding state to list out the Forts Palaces and Monuments of India.
Andhra Pradesh
Forts Palaces Monuments of India
Location
Dynasty
Style
Nearest Inernational Airport

Falaknuma

Hyderabad
Hyderabad

Golconda Fort

Hyderabad
   Hyderabad
Orissa
Forts Palaces Monuments of India
Location
Dynasty
Style
Nearest Inernational Airport

Konark

Puri
Kolkata
Gujarat
Forts Palaces Monuments of India
Location
Dynasty
Style
Nearest Inernational Airport

Laxmi Vilas Palace

Baroda
  Mumbai

New Palace

Morvi
  AhmEdabad
Jammu Kashmir
Forts Palaces Monuments of India
Location
Dynasty
Style
Nearest Inernational Airport

Royal Stok Palace

Ladakh
  Amristar
Karnataka
Forts Palaces Monuments of India
Location
Dynasty
Style
Nearest Inernational Airport

Vijayanagar(Vijayanagara)

Hampi
Hyderabad

Amba vilas Palace

Mysore
Bangalore
Madhya Pradesh
Forts Palaces Monuments of India
Location
Dynasty
Style
Nearest Inernational Airport

Gwalior Fort

Gwalior
  Delhi

Jai Villas Palace

Gwalior
  Delhi

Maheshwar Fort

Maheshwar
  Ahmadabad

Mandu

Mandu
  Ahmadabad

Orchha

Orchha
  Delhi

Govind Palace

Datia
  Delhi

Khajurahao

Chhatarpur
  Delhi

Sanchi

Raisen
  Delhi
Manipur
Forts Palaces Monuments of India
Location
Dynasty
Style
Nearest Inernational Airport

Kangla Fort

Imphal
Guwahati
Haryana
Forts Palaces Monuments of India
Location
Dynasty
Style
Nearest Inernational Airport

Red Fort

Delhi
  Delhi

Tughlaquabad Fort

Delhi
  Delhi

Qutb Minar

Delhi
  Delhi

Humayun's Tomb

Delhi
  Delhi
Punjab
Forts Palaces Monuments of India
Location
Dynasty
Style
Nearest Inernational Airport

Jagatjit Palace

Kapurthala
  Delhi

Moti Bagh Palace

Patiala
  Delhi

Qila Mubarak

Patiala
  Delhi
Rajasthan
Forts Palaces Monuments of India
Location
Dynasty
Style
Nearest Inernational Airport

Amber Fort

Jaipur
  Delhi

Balagarh

Pokhran
   Delhi

Chittorgarh

Chittorgarh
Ahmedabad

City Palace

   Jaipur
   Delhi

City Palace

Udaipur
Ahmedabad

Dundlord Fort

Dundlord
   Delhi

Jaigarh

   Jaipur
   Delhi

Jaisalmer Fort

Jaisalmer
   Ahmedabad

Juna Mahal

Dungarpur
   Ahmedabad

Junagarh Fort

  Bikaner
    Delhi

Kumbalgarh

Kumbalgarh
     Ahmedabad

Lake Palace

Udaipur
  Ahmedabad

Lallgarh Palace

Bikaner
   Delhi

Lahogarh

Bharathpur
   Delhi

Mandir Palace

Jaisalmer
   Ahmedabad

Mehrangarh Fort

  Jodhpur
    Ahmedabad

Nagaur Fort

   Nagaur
   Delhi

Rambagh Palace

Jaipur
   Delhi

Samode Palace

Samode
    Delhi

Taragargh

Bundi
   Delhi

Umaid Bhawan Palace

Jodhpur
   Ahmedabad

Vinay Villas Palace

Alwar
    Delhi

Water Palace

Deeg
    Delhi
Tamil Nadu
Forts Palaces Monuments of India
Location
Dynasty
Style
Nearest Inernational Airport

Fort St George

Chennai
    Chennai

Gingee Fort

Gingee
   Chennai

Nayaka Palace

Thanjavur
Chennai

Padmanabhapuram Palace

Padmanabhapuram
    Thiruvananthapuram

Thrimal Nayaka Palace

Madurai
    Kochi

Mamallapuram

Kancheepuram
    Chennai
Uttar Pradesh
Forts Palaces Monuments of India
Location
Dynasty
Style
Nearest Inernational Airport

Agra Fort

Agra
  Delhi

Fatehpur Sikri

Fathehpur
  Delhi

Taj Mahal

Agra
  Delhi
West Bengal
Forts Palaces Monuments of India
Location
Dynasty
Style
Nearest Inernational Airport

Raj Bhawan

Kolkata
  Kolkata